What is it?
<ALL-OUT> is an Integrated Development Environment (IDE) for creating custom formatted XML extractions from IBM Lotus Notes databases. Extraction programs can be incorporated into any Lotus Notes or Domino application by including a single LotusScript library.
IDE Features
3-Pane interface (Control, Trace, XML output)
Debug support for stepping, break and resume, trace formulas, back mapping between trace and output.
Who is it for?
The <ALL-OUT> IDE is targeted at developers and requires some knowledge of Notes development concepts such as views, documents and @Formula language.
Once an extraction program is created it can be deployed as part of any Notes/Domino application.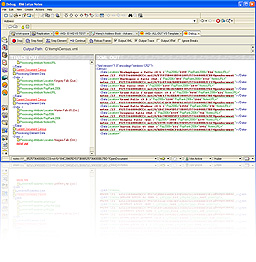 Why use it?
<ALL-OUT> drastically simplifies and accelerates the creation of complex XML extractions. It fills the gap between built-in XML generation (DXL, ReadViewEntries, etc.) and custom programming.
Common Applications
AJAX style applications for the web OR Notes client
Creating DXL content
Surfacing XML content in a portal
Feeding XML content to external report writers, PDFs, spreadsheets, etc.